LightFreq launched on crowd-funding site Kickstarter. An electrifying marriage of vision and sound, LightFreq is set to revolutionize the way we light our living spaces, and is offering some great rewards to backers, with Early Bird packages available from US $55.
Anyone can use LightFreq for their home – it fits in any standard light fixture, so simply swap your regular light bulb for a world of light and music at your fingertips. LightFreq takes the elements of a light bulb, HD music player, dimmer switches and more, and wraps them up into one unique space saving item, whilst creating a totally customizable environment for your home or office. All functions of the LightFreq can work independently; so whether you just want light, just want sound, or if you want to create a fully immersive environment, the LightFreq has all options covered in one bulb.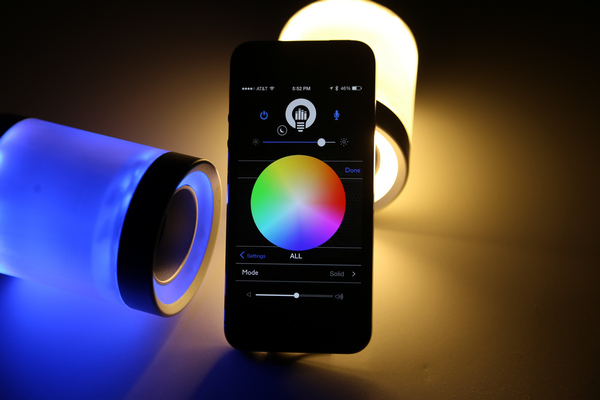 LightFreq's smart bulb not only changes a miriad of colors, but also plays back music. (Photo Courtesy of Lightfreq)
An easy-to-use companion app allows anyone to control their surroundings through the LightFreq bulb. From your smart device you can control the level of light, volume of sound, and even the precise hue and color the LightFreq produces. In addition, LightFreq can adapt its color, speed and mood to the genre of music you chose to play through it, with over 16million color options and combinations available. So, whether you'd like a soothing cool blue hue to calm you post work, or purple to get the party started, LightFreq offers total mood stimulation at the touch of an app.
Even without the companion app, anyone can still stream their music to the LightFreq via Bluetooth. So however you choose your tunes, LightFreq has you covered and colored.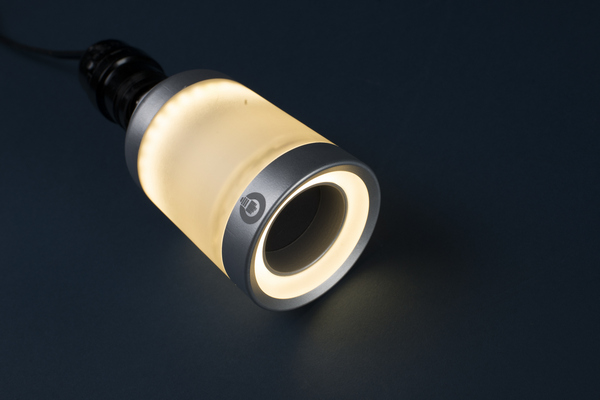 Lightfreq bulbs similar to Philips Hue can change up to 16 million colors. (Photo Courtesy of Lightfreq)
Devon Alli, LightFreq Founder, and his team comments "We're thrilled to be bringing this project to Kickstarter. Its community has such a strong passion for innovation, and they truly understand our desire to offer a unique, futuristic, desirable product that's worthy of their backing. Finally getting to share the result of all our hard work with them is an exciting prospect, and we can't wait to see the community's reaction to LightFreq!"
As well as being able to customize all light and sound throughout your home, LightFreq offers some additional features to make life a breeze. If you're the type that leaves your phone on silent, and prone to leaving it in another room and missing all-important calls, texts and alerts, you can sync the LightFreq to your phone. A flash of color in your LightFreq will let you know if someone in trying to get in touch, and you need never be left out of the loop again.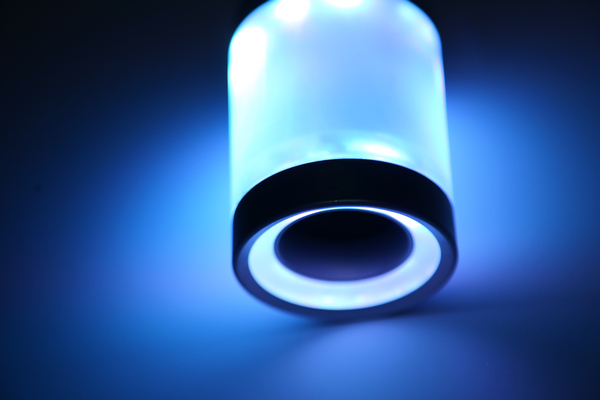 Lightfreq bulbs marries lighting with music. So no more need for Beats Pill? (Photo Courtesy of Lightfreq)
Taking communication a step further. LightFreq can also operate as an intercom. Simply speak into your smart device via the companion app for your voice to be transferred to any of the LightFreq bulbs in your home.
Backers on Kickstarter can become involved with this exciting project for as little as US $1, with exclusive playlists, early app access, and special limited edition Kickstarter version of the LightFreq up for grabs. Big time backers will receive even greater rewards, with the opportunity to deck out your entire home or office with LightFreqs, making your place the pinnacle of light and sound.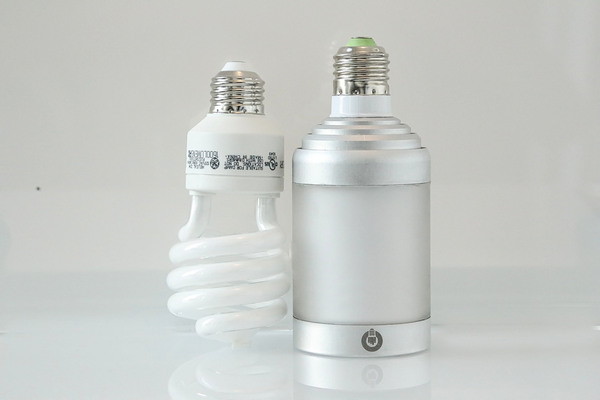 The Lightfreq bulb is about 5 mm longer than your average CFL and fits most luminaires, said the company. (Photo Courtesy of Lightfreq)
Specs:
Built in microphone for the intercom with adjustable sensitivity.
Dual RGB-W LED rings provide natural whites and stunning colors
LightFreq uses 17 watts of power when on (.8 watts in standby) while still producing 800 lumens
360 Degree Beam Angle/Omnidirectional
16 million colors
40,000 hours lifetime
100-240v
800 lumens
E26 Edison screw
Bayonet connection (Euro number B22 or B22D)
RGB-W dual LED light rings
5 watt speaker 60 hertz to 20 kHz frequency response
-40 degrees to 80 degrees Celsius working temperature
Bluetooth protocol: A2DPV1.2 AVCRPV1.0 DIV1.3
120 Ac to 240 voltage Lamp power 17 watts
Utilities need to get: CE, ROHS, FCC
20 meters Bluetooth distance
Built in mic: sensitivity -16 to +30 decibels
IP51 waterproof level
You can back LightFreq on the Kickstarter page now; starting at US $55.